After homes, cars are the largest purchase most people make in their lifetime. That's why drivers think carefully about how to spend their dollars.
Gas-powered cars have been on the road for more than 100 years, but many consumers are less familiar with how newer cars like electric vehicles and plug-in hybrid vehicles affect their pocketbooks. Is the initial price tag higher? How much does charging cost? What about battery maintenance? Chase Auto is here to help you with your EV cost questions.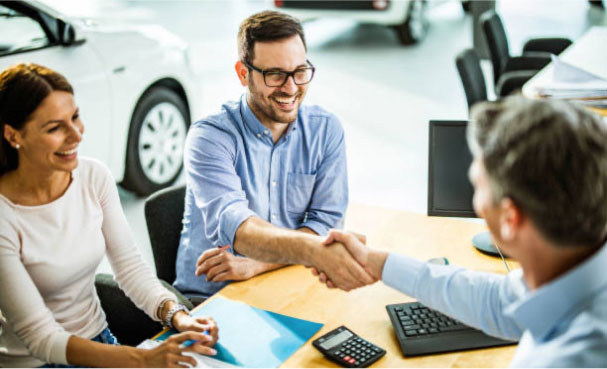 ---
Upfront electric vehicle costs
Electric vehicle price tags
Just like traditional cars, electric and plug-in hybrid vehicles come in a wide range of price tags—from $30,000 up to $100,000, and more for luxury models.
The average cost of a fully electric vehicle is about $53,438. Same page link to footnote reference 1 This compares to $48,808 for the average price of a new gas-powered car purchased in the U.S. in 2023. Same page link to footnote reference 2 This gap is expected to close in the years ahead as more automotive companies release more affordable options to meet consumer demand.
Electric vehicle rebates, discounts & other incentives
Helping to close the electric vehicle price gap, the federal government currently offers a rebate of up to $7,500 off the cost of a fully-electric car, and plug-in hybrids are also eligible for the rebate, depending on their battery capacity. This rebate is only available for vehicles with final assembly in North America. For a list of vehicles that qualify, please access this resource from the U.S. Department of Energy.
There may be additional rebates and discounts offered by your state, local municipality, or local electricity provider. Discover the savings you may be eligible for using this incentive look-up tool.
---
Ongoing electric vehicle costs
Electric vehicle maintenance
All cars require maintenance, but the maintenance needs of electric and plug-in hybrid vehicles are different.
Fully electric vehicles don't require oil changes, spark plugs or timing belts. Unlike gas-powered engines, electric motors don't require routine maintenance. Same page link to footnote reference 6 These reduced maintenance needs could save an EV owner who drives 15,000 miles per year approximately $3,000 over a 5-year period compared to a gas-powered car. Same page link to footnote reference 7
Maintenance needs that are unique to fully electric vehicles include battery maintenance and a faster rate of tire degradation. Same page link to footnote reference 8
Importantly, plug-in hybrid vehicles require both gas-powered and electric-powered maintenance needs. Learn more about EV maintenanceopens in a new window in our Stories. ​
Electricity to charge your electric vehicle
Traditional vehicles require gas. Electric vehicles (EVs) require electricity. Plug-in hybrid vehicles (PHEVs) require both. All come with expenses.
There are two costs associated with charging an EV or PHEV—at-home charging and on-the-road charging. At-home charging expenses become part of your monthly utility bill, just like turning on the lights or running the dishwasher. Just as gas prices vary from city to city, so do electricity prices. Same page link to footnote reference 9 On average, it costs about half as much to fuel a vehicle with electricity compared to a similar vehicle that runs on gasoline.
On-the-road charging is somewhat similar to filling up at the gas station, but it's important to know that some public EV charging stations offer membership rates. Members pay an annual fee in exchange for a discounted price-per-kilowatt when they charge-up, but non-members can often access the same stations at a higher per-kilowatt rate. Learn more about public chargingopens in same window.
---
EV tools and resources
Calculate your total
lifetime costs
This tool from the U.S. Department of Energy calculates total lifetime costs of owning an electric vehicle. It factors in both up-front costs, including tax credits and charging station installation, as well as normal daily use, including mileage and localized gas/electricity costs.
Calculate
Find electric vehicle rebates and incentives in your area
This database provides information on all federal, state, and local EV incentives available in your ZIP code. Incentives may include rebates and tax breaks on the car itself, support for home charging equipment, discounts on electricity pricing and driving perks.
Find rebates
---
Sources
This content is for educational purposes only and provides general auto information. The material is not intended to provide legal, tax, or financial advice or to indicate the availability or suitability of any JPMorgan Chase Bank, N.A. product or service. Outlooks and past performance are not guarantees of future results. Chase is not responsible for, and does not provide or endorse third party products, services or other content. For specific advice about your circumstances, you may wish to consult a qualified professional.