Driving the transition to electric vehicles
Car manufacturers are coming out with a range of fully electric and hybrid electric models every year. We know these new vehicles present new and different questions for car buyers, and Chase Auto is here to help you navigate the quickly accelerating world of electric driving. Explore the latest tools and information to make the transition to an electric vehicle.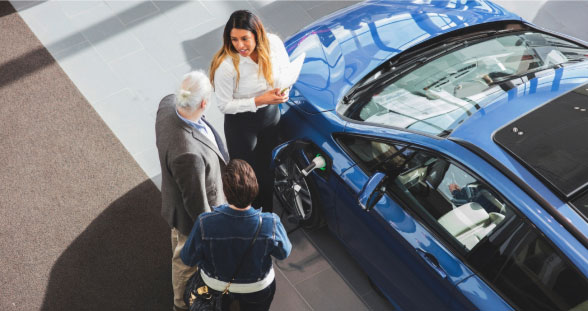 Types of electric vehicles
There are three types of car technologies that use the word "electric" – hybrid electric, plug-in hybrid electric and fully electric. These vehicles provide a range of options for consumers.
Frequently Asked
Questions
There are approximately 55,000 charging stations in the United States. Most are concentrated in highly populated urban areas, but there are public charging stations available in all 50 states. Same page link to footnote reference 3 To find chargers when planning your next road trip, use this mapping tool that will show you all chargers on your route along with real-time availability.
The short answer is no, EVs can be charged anywhere you can find an outlet. However, for people living in multi-family housing, home charging will require additional planning.
As electric vehicles continue to become more common, property managers are more likely to offer home charging options for residents driving electric vehicles. Same page link to footnote reference 13 EV drivers can discuss with building management the practicality and possibility of installing shared charging equipment on building grounds. Some states and cities offer programs that will help cover the costs associated with the installation of shared charging in multi-family parking lots, and strategies such as assigned parking for EV owners can make home charging convenient and easy for residents. Same page link to footnote reference 14
Other options for EV owners without a garage include finding a supercharging station close to home, charging at a location close to work, or working with your employer to coordinate a charging station on company grounds.
EV maintenanceopens in a new window costs are typically lower than conventional automobiles. EV owners who drive 15,000 miles per year could save approximately $3,000 in repair and maintenance costs over a 5-year period compared with a gasoline-powered car. Same page link to footnote reference 15
Selecting a repair shop for electric vehicle repairs depends on the make and model of the car and the nature of the issue. For standard repairs such as rotating tires, inspecting the suspension, or replacing cabin filters and wiper blades, any local shop can be of service. However, for issues relating to the EV battery or other EV technology, the vehicle should be taken to a local dealership or other qualified mechanic.
PHEVs are Plug-in Hybrid Electric Vehicles, and they have both a gas-powered engine and an electric motor that is charged by plugging it into an outlet. Same page link to footnote reference 16 Some PHEVs operate on electricity until the battery is nearly empty, and then switch over to their gas-powered engine. Other PHEVs—sometimes called "blended mode" PHEVs—use gasoline and electricity simultaneously to power the vehicle while the battery has charge. Either way, PHEVs are able to run on gasoline alone, even when the electric battery is fully depleted.
---
Sources
This content is for educational purposes only and provides general auto information. The material is not intended to provide legal, tax, or financial advice or to indicate the availability or suitability of any JPMorgan Chase Bank, N.A. product or service. Outlooks and past performance are not guarantees of future results. Chase is not responsible for, and does not provide or endorse third party products, services or other content. For specific advice about your circumstances, you may wish to consult a qualified professional.